The 47 competitors in The Running Company 15 km Sealed Handicap at Barwon Valley Park were blessed with a magnificent morning for running on Sunday. It was a frosty start with only a westerly zephyr which meant times were good. Race sponsor, Julian Spence and former club member, Matt Gunther ran the whole race together at a scorching pace with Spence crossing the line first. Invitation runner, Shay Bertino was easily the fastest female ahead of another invitee, Danni Rogan.
When handicappers Dan and Michael applied the hidden handicaps, Rachel Ryan continued her good form winning the Frontmarkers. Supervet Peter Fuller who continues to improve at the age of 76 won his first club sash in the Middlemarkers and Jacob Luca also had his first success in the Newcomers. Hamilton Mack scored his third win for the season by taking out the Backmarkers. Dawn Fraser was the winner of the alternate 5 km which had a field of twenty.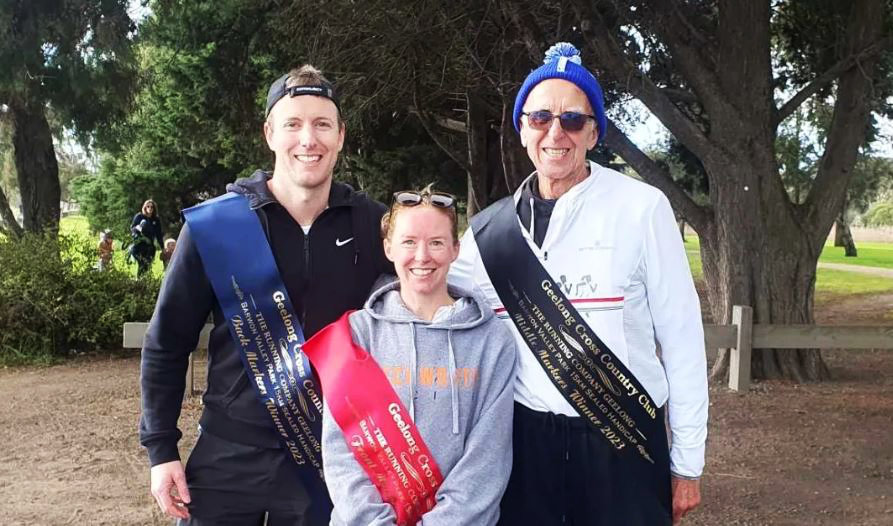 Results
Frontmarkers: R. Ryan 74.34, Middlemarkers: P. Fuller 68.34, Backmarkers: H. Mack 57.50, New and Returning Runners: J. Luca 61.13.
Fastest Times
Under 40 Male: J. Spence 52.17, M. Gunther 52.18.
Under 40 Female: S. Bertino 58.35, D. Rogan 60.09.
Veteran Male: P. Posterino 57.43, L. Considine 58.19.
Veteran Female: G. Berry 67.05, J. White 67.11.
Masters Male: N. Rashid 68.27, J. Foran 74.52.
Masters Female: R. Kimpton 68.53, S. Petersen 71.40.
Legends Male: K. Henderson 66.06, K. McNulty 67.08.
Legends Female: C. Crawford 79.02.
Supervets Male: P. Fuller 68.34, M. Wright 83.40.
Supervets Female: C. Stephens 81.31.
Alternate 5 km: D. Fraser 26.19
Next Sunday's race is a 8 km race at Waurn Ponds at 9:00 a.m. New members most welcome. Registrations close at 8:30 a.m.