Another gorgeous morning for distance running saw a field of 69 turn up for the running of the Feast Geelong 5km handicap at Fyansford on Sunday.  With only the ramp onto the bridge and an incline near the finish, the course is principally flat and frontmarkers often prevail.
It was the case again this season, when Gerry Fitzpatrick held on to win by 60 metres from Eloise Gordon, trying for her second handicap win this season, with Meagan Farley a few metres away third. Fitzpatrick put the writing on the wall with a close third at Waurn Ponds a fortnight ago and paid tribute to the speed work he does at Masters Athletics on Wednesday evenings for securing his third club sash.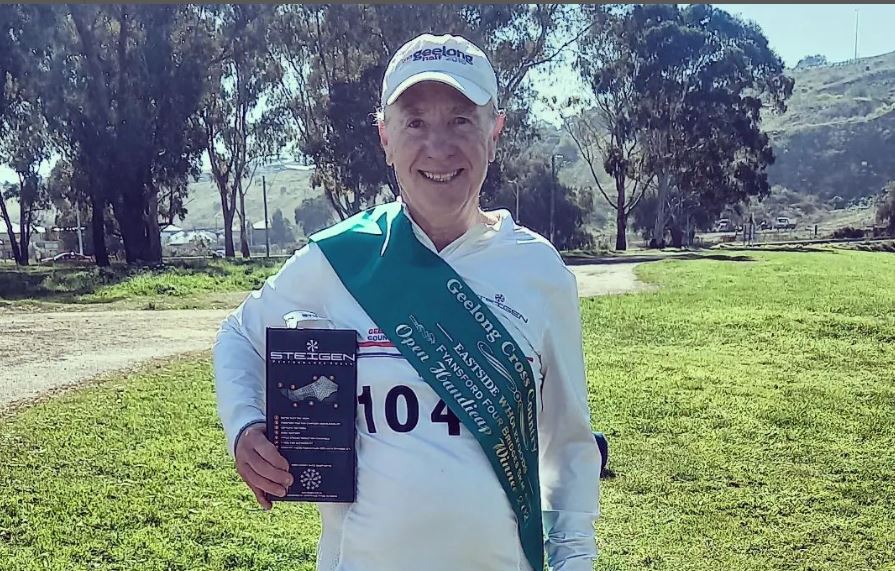 Invitation runner, Liana Fitzpatrick was the fastest female and Hamilton Mack the fastest male, both by a margin of 12 seconds. Mitch Geall and Michael Morton were congratulated on reaching their 200 and 100 run milestones respectively.
Top 10 Placings
G. Fitzpatrick 26.10, E. Gordon 23.05, M. Farley 24.57, S. Hamilton 23.08, M. Morton 18.10, W. Hunt 27.54, S. Coffey 21.34, V. Gasper 23.47, J. Foran 20.58, S. Andrews 22.00.
Fastest Times
Under 20 Male: J. Peart 19.34.
Under 20 Female: C. Paul 25.32.
Under 40 Male: H. Mack 17.49, M. Minney 18.52.
Under 40 Female: L. Fitzpatrick 19.11,R. Thompson 19.23.
Veteran Male: L. Considine 18.01, M. Morton 18.10.
Veteran Female: J. White 20.49,E. Gordon 23.05.
Masters Male: J. Foran 20.58, S. Beaulac 21.43.
Masters Female: S. Pedersen 21.07, S. Andrews 22.00.
Legends Male: K. McNulty 21.17, D. Churkovich 23.00.
Legends Female: P. Galvin 27.29, J. Morton 28.33.
Supervets Male: D. Elward 21.09, P. Fuller, 21.24.
Supervets Female: C. Stephens 26.01.
Magic Money: T. McRae 22.22.
Next Sunday's race is the Balyang Sanctuary10 km handicap starting at 9:00 a.m. New members and invitation runners most welcome. Registrations close at 8:30 a.m.