A very strong wind made conditions tough for the field of 65 that turned out for the running of the Beyond 8 km handicap at Ocean Grove on Sunday morning. Fortunately there were some sheltered sections within the ti tree which provided welcome relief.
It was first year member, Kristen Evans, in just her ninth run with the club who hit the lead with 200 metres to go and scored by 35 metres from Dawn Fraser with secretary Jeff Walker 50 metres behind in third. Alana Plyman and Liam Drady were once again the fastest, compiling valuable championship points.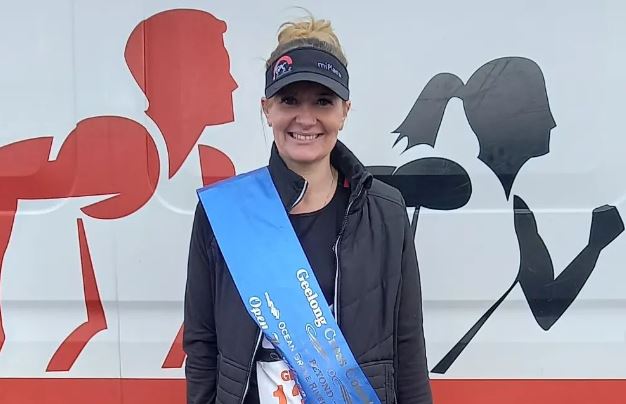 Top 10 Placings
K. Evans 43.01, D. Fraser 46.21, J. Walker 44.04, A. Jenkins 38.27, Z. Krstevski 35.20, J. MacCarthy 58.02, J. Foran 35.33, J. Morton 47.16, M. Long 39.57, S. Thompson 35.57.
Fastest Times
Under 20 Female: C. Paul 44.19.
Under 40 Male: L. Drady 29.15, M. Minney 32.11.
Under 40 Female: A. Plymin 30.55, K. Bramley 31.48.
Veteran Male: L. Considine 30.01, L. Haines 30.46.
Veteran Female: J. White 35.42, D. Fraser 46.21.
Masters Male: Z. Krystevski 35.20, J. Foran 35.33.
Masters Female: S. Pedersen 37.52, N. Angus 41.38.
Legends Male: K. Walker 34.51, D. Churkovich 37.58.
Legends Female: S. Howell 37.26, C. Crawford 42.45.
Supervets Male: D. Elward 35.24, V. Gasper 43.15.
Supervets Female: C. Stephens 44.57.
Magic Money: J. Walker 44.04.
Next Sunday's race is the Barwon Valley Park 10 km sealed handicap starting at 9:00 a.m. New members and invitation runners most welcome. Registrations close at 8:30 a.m.