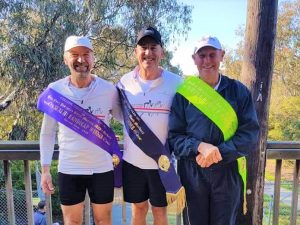 A season high field of 123 athletes lined up for the Profeet Podiatry 8 km sealed handicap along the bike path from the Canoe Club to Fyansford and return. The slight headwind on the outward leg moderated, making conditions almost ideal with only a few puddles to negotiate. A group of four dominated the race but in the dash to the line, first season runner, Michael Minney, just outlasted Stephane Vander Bruggen to win by 15 metres with Kate Bramley, the first female, 40 metres back in third place.
When handicappers Dan and Andrew applied the hidden handicaps, runners from the Drysdale summer group, Mark Humphrey and Stuart Crossfield, won the Backmarkers and Middlemarkers divisions respectively. Kanga Wilks won the Frontmarkers section whilst Jonathon Davis, back at the club after many years' absence, won the New and Returning Members' sash. Handicapper Dan Wright and Demetrius Churkovich were both acclaimed for reaching their 100 run milestones.
Results
Frontmarkers: G. Wilks, 46:33
Middlemarkers: S.Crossfield, 34:07
Backmarkers: M. Humphrey, 32:24
New and Returning Runners: J. Davis, 41:53
Fastest Times
Under 20 Female: H.Peart 47.39.
Under 40 Male: M. Minney 28.14, D. Jenkins 28.27.
Under 40 Female: K. Bramley 28.25, R. Thompson 31.53.
Veteran Male: S. Vander Bruggen 28.17, D. Wright 28.30.
Veteran Female: S. Pedersen 33.05, T. Dekleva 36.42.
Masters Male: R. Jenkins 29.20, M. Clayton 30.56.
Masters Female:, S. Howell 34.46,N. Angus 40.06.
Legends Male : K. Henderson 32.01, D. Elward 32.36.
Legends Female: P. Galvin 37.38, M. Henshaw 44.52.
Supervets Male: J. Walker 38.36, M. Orelli 47.58.
Supervets Female: F. Barnett 54.03, M. Blood 61.21.